Dental implants consist of a titanium post similar to that of the tooth root. The titanium post osseointergrates with the bone of the jaw (the fusion of the titanium implant surface with the surrounding bone).
Our challenge as dental professionals for implant supported restorations, is simulating the esthetic and function, similar to that of the natural dentition while being able to meet the patient's expectations.
Abutment selection: Abutment refers to the restoring component for the crown portion.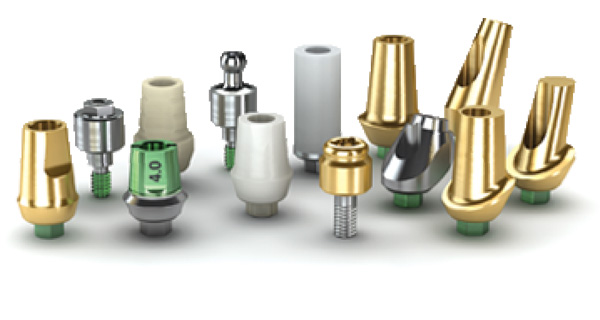 Standard abutments pre-manufactured by the specific implant company, these typically need to be prepped or modified at the laboratory in order to accommodate the restorative material of choice. Stock abutments come in two types of material: titanium and zirconium. Restorations are then cemented on top of abutment.
Indications:

Implants are reasonably parallel
Not in esthetic zone
Emergence profile is not an issue
Placement of margin is not critical
Patient's budget is an issue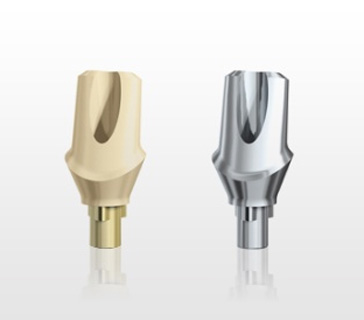 Patient specific abutments are customized to each specific patient. Materials of choice include gold, titanium, and zirconium. Custom Abutments are manufactured in two methods: Custom waxed, cast and milled in gold and custom CAD/CAM milled in Titanium and Zirconium. Restorations are cemented on abutments.
Indications:

Implants are not divergent to one another (parallel). Surgically misplace, at an angle or to buccal/lingual of the ridge.
Esthetics are critical or in the esthetic zone.
To provide for an ideal and natural tooth contours.
Marginal placement is crucial.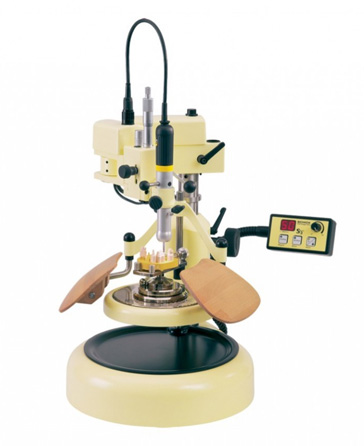 Advantages:

Can be customized to almost the same size and shape of the lost tooth or teeth.
Can simulate the emergence profile of the adjacent teeth.
Abutments can be made exactly parallel to all other abutments.
Marginal placement
Disadvantages:

More costly
Can take longer to fabricate
The abutment and restoration are fabricated together as one with an access hole which a screw is placed in and thus torque to the implant. Essentially it's like a fixed removable prosthesis.
Disadvantages:

Not always the most esthetic
PFM's, All ceramic, FFC and Dentures
Prep stock abutment Ti, Zi
Custom abutment Gold, Ti, Zi, Lithium disilicate-e.max

Custom gold abutment with porcelain collar
Custom gold/porcelain abutment

Soft tissue models
PFM, All ceramic, FFC
Implant borne bridges
Over dentures
Pre-surgical case planning
Surgical stints
Dx waxups
Temporaries provisional's
Custom shades









Standard abutments pre-manufactured by the specific implant company, these typically need to be prepped or modified at the laboratory in order to accommodate the restorative material of choice. Stock abutments come in two types of material: titanium and zirconium. Restorations are then cemented on top of abutment.

Indications:

Implants are reasonably parallel
Not in esthetic zone
Emergence profile is not an issue
Placement of margin is not critical
Patient's budget is an issue

Patient specific abutments are customized to each specific patient. Materials of choice include gold, titanium, and zirconium. Custom Abutments are manufactured in two methods: Custom waxed, cast and milled in gold and custom CAD/CAM milled in Titanium and Zirconium. Restorations are cemented on abutments.

Indications:

Implants are not divergent to one another (parallel). Surgically misplace, at an angle or to buccal/lingual of the ridge.
Esthetics are critical or in the esthetic zone.
To provide for an ideal and natural tooth contours.
Marginal placement is crucial.

Advantages:

Can be customized to almost the same size and shape of the lost tooth or teeth.
Can simulate the emergence profile of the adjacent teeth.
Abutments can be made exactly parallel to all other abutments.
Marginal placement

Disadvantages:

More costly
Can take longer to fabricate

The abutment and restoration are fabricated together as one with an access hole which a screw is placed in and thus torque to the implant. Essentially it's like a fixed removable prosthesis.

Disadvantages:

Not always the most esthetic

PFM's, All ceramic, FFC and Dentures

Prep stock abutment Ti, Zi
Custom abutment Gold, Ti, Zi, Lithium disilicate-e.max

Custom gold abutment with porcelain collar
Custom gold/porcelain abutment

Soft tissue models
PFM, All ceramic, FFC
Implant borne bridges
Over dentures
Pre-surgical case planning
Surgical stints
Dx waxups
Temporaries provisional's
Custom shades